International Pacific Seafood's, Inc. (IPS) was incorporated on August 5th, 1975 by Mr. Vincent J. DeCorpo. We are a California Corporation, privately held by Jay L. Moore and family.
Since inception, IPS has been dedicated to marketing the most extensive selection of fresh and frozen seafood products available, providing the to food service and selected retail customers. For years, IPS has established a nationwide distribution network that is able to meet unique demands of our customers located in the fastest growing regions of the country.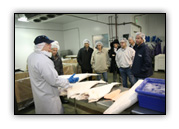 IPS imports, processes and markets a full line of value added and commodity seafood items, many of which are not available through other importers or traders. This affords us the opportunity to offer our customers a more complete, vertically integrated and well-rounded line of quality seafood.
From the beginning, IPS has been recognized as a "provider" of fine seafood. Being a provider means our focus is on the customer and their wants and needs rather than limiting ourselves and our customers with a set list of products. While we do have a core list of items that we directly source, we pride ourselves on developing menu items side by side with our customers that fit best with their concepts and offerings. Because of this, one can always look to IPS as "Your Global Fish Market."
To support this marketing niche, IPS has extensive expertise in import/export; handling all necessary documents, including letters of credit and customs/health permits. Our capabilities and international reputation has allowed IPS to establish import arrangements with countries around the globe, all of which support our reputation as the best choice, "single source" seafood supplier to the food service industry.
Our ability to provide a market basket of seafood from around the world through multiple domestic sources and international relationships helps IPS keep its finger on the pulse of the industry and react accordingly, to provide valuable solutions. The flexibility of IPS is not only good for our business, but for the business of our valued customers and clients.
IPS is an active member of the following organizations:
California Fisheries and Seafood Institute
National Federation of Independent Business